Fremont City Councilmember Teresa Cox presents
City of Fremont Special Recognition Award to
Bollywood Artist Indeep Bakshi,
Hollywood and Bollywood Singer Aditi Sri,
Hollywood Bollywood Director Dr Ranu Sinha,
Hollywood Bollywood Producer Community leader Srini Veeraraghavan and
Bollywood Music Brand Partner Eddie Oberoi.
Entirely recorded in the SF Bay Area, multi-cultural and all ages, from Bollywood record label Zee Music, co-produced by GlamR and directed by Dr. Ranu Sinha
Music Video - "Border - TrendSetter" | Indeep Bakshi #IBDOPEHAI | Ghazal Gill | Raman Gill | Kirat Gill - see on our Music Media page.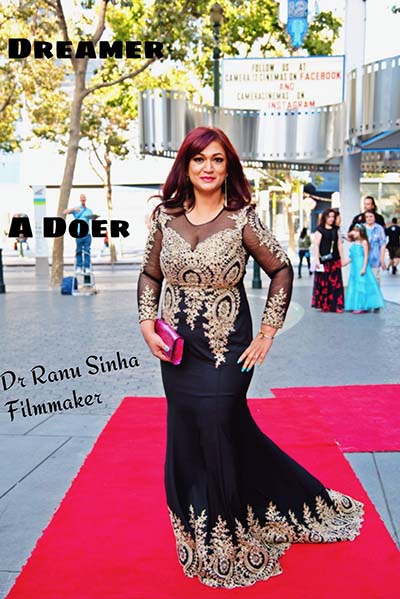 Dr. Ranu Sinha has been selected
for the jury of JIFFA.

October 20th, in the Hello Gujarat News.
---
From Update Now News on Facebook:

Update Now News wishes Dr. Ranu Sinha a very happy birthday.
Dr. Ranu Sinha is an Indian-American filmmaker in Silicon Valley Bay Area San Francisco. Her production company, GlamR Global in films for international audiences on Indian society.whether in the economic, social or cultural spheres. She's Ceo of GlamR LLC a media and global film production company since 2016 given platforms to many global talents and award winning projects
Dr Ranu Sinha as international filmmaker
jury to JIFFA India 2020. ( Jharkhand international film festival)
View on YouTube (click here).

Click here to view Dr. Sinha's work on IMDB.
Dr. Sinha and GlamR LLC has also recently collaborated with Bollywood and Bay Area projects.
Tohfa Gurlez Akhtar, Indeep Bakshi -- GlamR LLC with T series 2019 (click to view)
Ranjha - Pallavi Sood ft. Indeep Bakshi -- GlamR LLC with Zee Music (click to view)